Birman babies are all white when they are born.
Within a couple days, the points (ears, nose, legs & tail) start to
get color. The color gradually "spreads" as the baby gets older.



3 - 4 week old babies. Notice the dark ears & nose.
The color is coming in on the legs and the white
gloving is beginning to show.



7 week old babies...the mask (color on the face) is coming in
nicely and the gloving (the white on the feet) is pretty
well defined by now.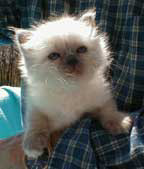 6 week old Blue point baby....sometimes God puts the white
on the bottom of the foot instead of on the toes (her left foot has no white on top of the toes)...oops !!